Conducted by: Southeast Ag Research, Inc.
Huma Gro Products Used: Breakout®, Max Pak®, Vitol®, and Zap®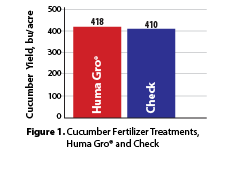 Objective
The purpose of this research project was to evaluate how Huma Gro® liquid fertilizer products with Micro Carbon Technology® affect cucumber yield when compared with a control program of grower's standard fertilizer.
Materials and Methods
This study was conducted at the Southeast Ag Research facilities in Chula, Ga. The experiment was conducted with four replicates. Each replication consisted of a 30-foot-long plot.
The Check plot used only an application of the grower's standard fertilizer program. The Huma Gro® plots also used the grower's standard fertilizer program; in addition, the 4 Huma Gro® liquid products were applied. The Huma Gro® products included Zap® (soil health and fertility enhancer, applied as a soil drench at transplant), Breakout® and Vitol® (plant growth optimizers, foliarly applied 3 times during the season), and Max Pak® (micronutrients, foliarly applied with the plant growth optimizers 3 times during the growing season).
Results
The Huma Gro® fertilizer treatment increased cucumber yield by 8 bushels per acre when compared with the Check treatment (Figure 1). The Check yielded 410 bu/acre, while the Huma Gro® treatment yielded 418 bu/acre.
Conclusions
The Huma Gro® fertilizer treatment increased the yield by 2% (8 bushels per acre) over the Check, with a return on investment (ROI) of 113%. The Huma Gro® program can help cucumber farmers be more profitable while increasing yield.