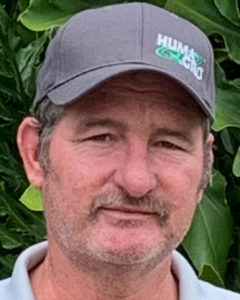 We lost Jason Garcia this week, his life cut short way too soon.
When Jason joined BHN as an agronomist in 2019, it was apparent early on that we had hired a special guy. Jason was ENTHUSIASTIC! Always. You just couldn't have a conversation with Jason without hearing a great story about someone in his family, about a good friend or customer in Plant City, Fla., or about something special that had happened in a customer's field.
Last year we put out an internal Employee Spotlight on Jason, which had this to say:
He grew up on a farm in the Plant City, Fla., area—the same area where he now lives and works. He has over 25 years' experience helping growers improve their crops.
He is proud to have served 10 years in the U.S. Army, Special Forces.
He has twin, 21-year-old children that he has raised for the past 8 years.
He loves salt-water fishing and being out on his boats. In addition to his fishing boat, he has a jet boat and an air boat—on which he'd been clocked at moving 115 mph. Despite rumors to the contrary, he claims that he does NOT wrestle alligators.
Faith and family (especially his love, Chrissy) keep him going, along with being able to help growers put the fun back into farming.
Jason loved to solve problems for his customers, and he delighted in learning new things and teaching others. He was always trying to find new ways to make customers happy and more productive. And if he could do all that while getting his hands dirty—whether it be helping to pull a customer's tractor out of the mud or helping to plant or fertilize or bring in a crop—so much the better. (And so much more fun!)
As testament to Jason's desire to teach, here are links to his podcasts and blog posts:
Jason was a great guy, and we will miss him. But he left us the gift of his enthusiasm for family, friendship, and growing. His life, lived well, is something we celebrate.